Hits: 23
'We're in a bumpy part of the ride' – Superdry founder on fashion's ups and downs
Analysts are split on whether Julian Dunkerton is the answer or part of the problem for the troubled brand
In the fashion business there are "ups and downs", says Superdry founder Julian Dunkerton with some understatement. "It's part of the journey, it doesn't frighten me."
The ups include a large chunk of the 2010s when Superdry was the hottest fashion label on the high street and enjoyed the patronage of celebrities including David Beckham, who fuelled its rise by wearing one of its Osaka 6 T-shirts on the cover of his calendar. At the height of its powers, in early 2018, the company was worth £1.7bn.
Unfortunately for the company's shareholders, who include Dunkerton, with a hefty 25% stake, the downs are recent and precipitous.
In 2019, he led a boardroom coup to return to the misfiring brand's helm but now into a fourth year the turnaround he promised has yet to materialise, with the company posting a near-£150m loss at its recent annual results. Now worth £40m critics suggest Superdry, famous for its decorative use of Japanese lettering on brightly coloured casual wear, is a "dad" brand beyond redemption.
Is there a way back? Dunkerton is adamant there is. He has spent nearly 40 years building a fashion business that has its genesis in his first venture, in 1985, when he started out selling clothes on a market stall called Cult Clothing in Cheltenham, where he is still based. Despite its problems the brand still sells £620m worth of clothing a year, which he says is not to be sniffed at.
But some now question whether Superdry will ever recapture its previous buzz. The millennials who couldn't get enough of its logoed hoodies, T-shirts and joggers are now parents and struggling with the cost of living crisis, while generation Z and Y-ers are more mercurial in their tastes, resulting in a fractured fashion scene where, among other things, buying secondhand is a big deal.
"These days it's definitely a dad brand," was the take of Melanie Rickey, one of the launch editors of Grazia, in a recent profile of Superdry in the Evening Standard. "There's no cultural touchpoint with Superdry any more."
But Dunkerton is not embarrassed to have middle-aged fans. "I'm not ashamed to sell to 40- and 50-year-olds," he says. Equally he knows that to survive long term in a brutal fashion game you need new disciples. The teenagers obsessed with brands as a way of "identifying yourself as a human being", as he puts it.
Survival is no mean feat in the brutal glare of the stock market as the fate of other once-feted brands such as Ted Baker and French Connection testifies. In 2015, Ted Baker was worth more than £1.2bn but after limping on following the forced departure of founder Ray Kelvin it sold for £211m last year. In 2021, French Connection fetched just £29m; at the height of its FCUK powers it was worth £500m.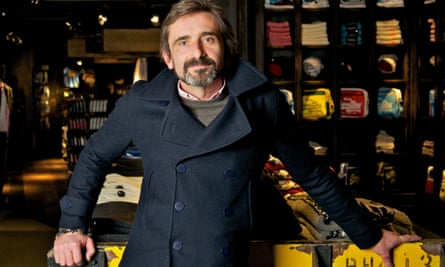 Analysts are divided on whether the driven entrepreneur is the answer or part of the problem. Approaching 60, Dunkerton lives a glamorous life documented on social media by his fashion designer wife Jade Holland Cooper. He is speaking from his home, a sumptuous Georgian mansion that has featured in the pages of Hello. He has other interests, too, including Dunkertons, the organic cider business started by his parents.
When he came back in 2018 (he had only quit the previous year) he promised to bring in a chief executive but ended up taking on the role and has no plans to give it up. "I'm 58 not 88," he says. "Bringing in a CEO was the beginning of the problems for this brand. I'm dealing with the aftermath of decisions that were short term."
As with the founders of French Connection and Ted Baker, Dunkerton can take credit for creating "something out of nothing", says one City analyst who declined to be named, but that he needed to let go.
"His era is over as CEO," adds the analyst. "When he said he would get someone in to be chief executive people gave him the benefit of the doubt. He's upset a lot of people and now the numbers are not coming through.
"The fashion business is pretty brutal because consumers have so much choice. If you lose fashionability they quickly find something else. Relatively few brands survive for a very long time. Topshop managed but eventually crashed and burned. Superdry has got old with its customers."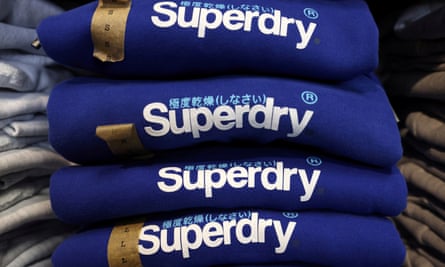 Like other retailers, Superdry was battered by the pandemic, but with still no obvious signs of a recovery it has found it harder to secure financing. This year it was forced to agree a £25m overdraft with the restructuring specialist Hilco – a name more commonly associated with end-of-life care for businesses than resurrection – at a punishing rate of 15.75%.
Dunkerton is a glass-half-full type of guy but it's hard to enthuse about a share price that is now below 50p. "Nobody wants to be in this position but it is what it is. I believe it will recover. I'm showing everybody my belief in this business." The businessman has doubled down, investing £3.4m when it sold new shares in May.
He claims to have inherited a mess from the previous management including nearly £200m worth of stock – a staggering 19.3m garments – languishing in warehouses around the world.
To right the ship he has gone back to basics, halving a range that had ballooned to 4,400 styles and to his horror was to include kidswear. He is sticking to the knitting, selling new versions of the "old classics" such as the cosy-looking puffer jackets that made it a hit in the first place.
But is it enough? The brand is associated with its bold use of graphics, a look that some analysts fear has had its day.
"We offer T-shirts with and without Japanese writing," counters Dunkerton. "Pick up one of our jackets and look at the price then walk down to Tommy Hilfiger and tell me this brand has not got a place."
In its "global flagship" in London's West End shopping district the windows showcase the best of its winter collection including a £120 bright orange men's puffer. Inside the store is like a sweet shop with neat stacks of colourful jumpers and T-shirts piled on tables and in the racks.
The menswear floor is packed with displays of jackets, jeans, T-shirts and jumpers in neon as well safer-looking colour choices. A wall of Hawaiian shirts provides inspiration for those who want to stand out.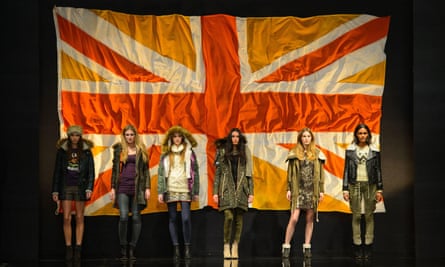 The teenage browsers seem more interested in rails given over to vintage Nike and Adidas while not far away a man in his 50s rubs the fabric of a pair of trousers as he makes his way to the till carrying several organic cotton logo-free T-shirts (the company now majors in sustainability).
It's harder to get a handle on the female customer, though, as its traditional streetwear look rubs up against glamorous sequined dresses as well as £145 1970s-style faux fur Afghan coats. Although it is not showing up in the numbers yet there is an undercurrent of "bubbling excitement" on TikTok about some of its fashion, Dunkerton says.
The businessman says he has taken decisive action when it needed cash such as pressing the button on an equity raise and selling the rights to its brand in some Asia-Pacific countries for close to £40m. The latter shows the brand's inherent value and hints at more deals to come, he says.
However, a recent Financial Times editorial suggested Superdry needed a "better solution" than selling the crown jewels "otherwise, it will simply serve as a reminder that coolness is ephemeral and a proportion of retailers are doomed to obsolescence".
Dunkerton counters that brands can "last for ever" if they adapt to the times and speaks about Superdry in the same breath as the likes of Patagonia. "I have done a lot of businesses in my time and they have all come through," he says. "There are ups and downs but you come through and move on. This is just a bumpy part of the ride."
Explore more on these topics