Hits: 35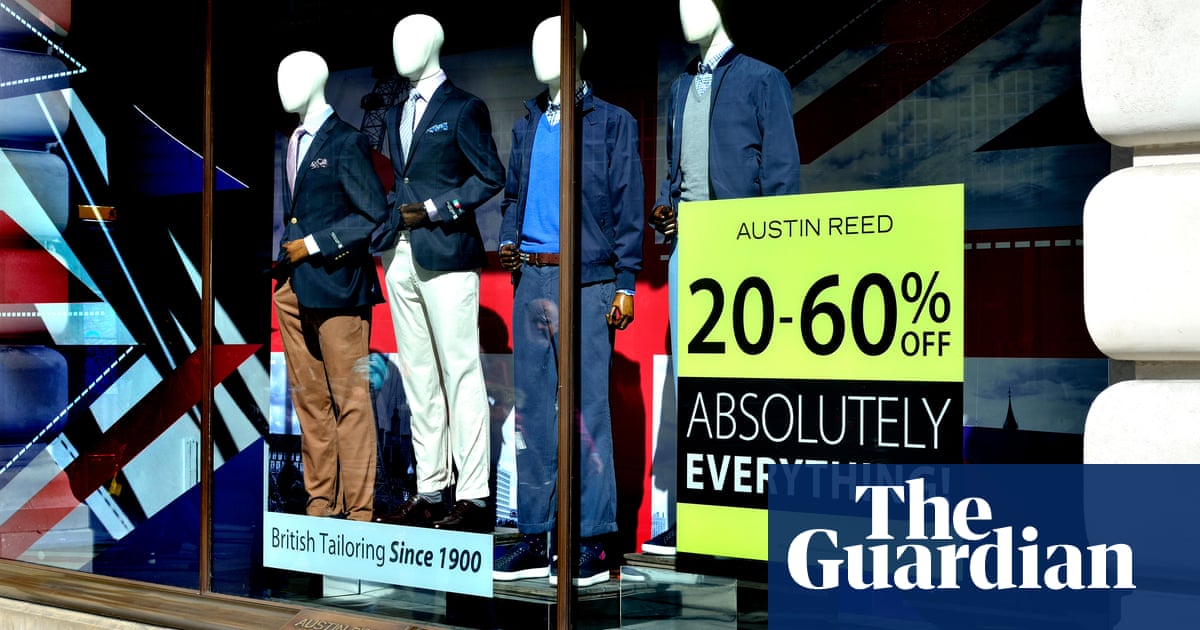 Up to 21,500 jobs are at risk at Edinburgh Woollen Mill Group – the owner of Jaeger, Peacocks and Austin Reed – as the retailer teeters on the brink of administration.
The group, owned by the entrepreneur Philip Day, has filed a notice of intention to appoint administrators, a legal document that provides protection from creditors for 10 days.
The group, which has 1,100 stores and concessions, about half of which are Peacocks outlets, had been seeking a buyer for some weeks and will spend the next few weeks considering its options.
Day, a former executive at the traditional British brand Aquascutum, who lives in Switzerland and owns a castle in Cumbria, built up his retail empire by acquiring a string of businesses out of administration.
He got his first big break in 2001, as part of the £49m private equity-backed buyout of the purveyor of knitwear to the middle-aged Edinburgh Woollen Mill. After buying out his co-investors, Day picked up the homewares group Ponden Mill, the young fashion brand Jane Norman and then, in 2012, the cut-price fashion chain Peacocks. He snapped up Austin Reed in 2016 and Jaeger in 2017 when he tried launching his own department store, Days, in Carmarthen. Last year, Day also bought the fashion chain Bonmarché, via a separate investment vehicle from the EWM Group, and put that into administration. Bonmarché, which employs about 2,500 people, is not affected by the potential administration process announced on Friday.
Edinburgh Woollen Mill (EWM) said it was "responding to the harsh trading conditions caused by the impact of the Covid-19 pandemic and a recent reduction in its credit insurance".
Credit insurance – which suppliers take out to cover orders yet to be paid for – was withdrawn two weeks ago amid a dispute over £27m that Bangladeshi factories say they are owed.
EWM said it had received a number of expressions of interest for parts of the group in recent weeks and that these were being assessed along with "all other options".
However, the chief executive of EWM, Steve Simpson, said there would "inevitably be significant cuts and closures" and the group would appoint FRP Advisory as administrators to carry "necessary restructuring" of the business.
Sources said that Austin Reed and Jane Norman, both of which now operate only online, were most likely to be shut down for good.
Simpson said: "Like every retailer, we have found the past seven months extremely difficult. This situation has grown worse in recent weeks as we have had to deal with a series of false rumours about our payments and trading, which have impacted our credit insurance.
"Traditionally, EWM has always traded with strong cash reserves and a conservative balance sheet but these stories and the reduction in credit insurance, against the backdrop of the initial lockdown, current local lockdowns, and the second wave of Covid-19 reducing footfall, have made normal trading impossible.
"As directors we have a duty to the business, our staff, our customers and our creditors to find the very best solution in this brutal environment."
Analysts at the market research firm GlobalData said EWM had suffered because its older customer base was more reluctant to visit stores during the coronavirus pandemic, while it had not developed its online proposition as much as some rivals.
Patrick O'Brien at GlobalData said Day had bought up a collection of weak brands that didn't have a lot of appeal to potential buyers of the business and so the most likely outcome was a pre-pack administration restructure in which Day would buy back more successful elements of EWM Group. He said the continuing coronavirus crisis had forced Day to act.
"Retailers were hoping Covid was only going to be affecting a short period of lockdown and then they would be able to recover. That is no longer the case and if we look into 2021, it is unlikely footfall is going to recover to pre-pandemic levels for some time. Where retailers are disproportionately exposed to older age groups, [those people] are going to be isolating and if they have not already been converted to shopping online, you are going to struggle," O'Brien said.